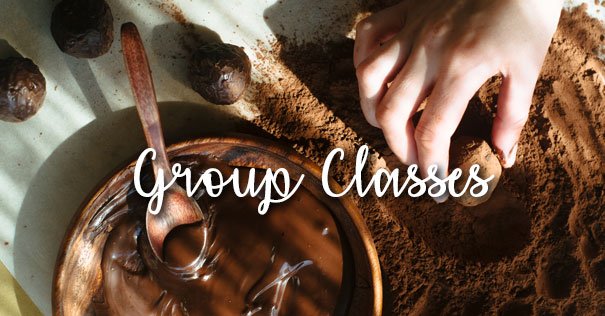 Perfect for Groups, Office Parties, Birthdays and Works Do's
---
Group Chocolate Making Classes
We have a range of chocolate making classes to suit your celebration or get-together. Chocolate Workshops in Bournemouth and London are a fabulous way to have fun and get creative. Indulge in dark, milk and white chocolates whilst getting creative! Please check our DIARY for upcoming events or ENQUIRE for more information.
1 – Introduction to Chocolate Truffle Making
1.5 hrs – £75 pp (Max 8 people, min 2 people)
A 1.5 hr truffle making class, where each person will make around 20 truffles to take away.
2 – Making Moulded Chocolates Class
1.5 hrs – £95pp (Max 8 people, min 2 People)
A 1.5hr hour class that involves both making small solid chocolates and filled chocolates. Under the watchful eye of our chocolatier get creative and indulge in a decadent array of chocolate products. At the end of the chocolate making class you will take home everything you make (approx 50 chocolates).
3 – Chocolate Portrait Painting
2 hrs – £110pp including a glass of Cava ( Max 20 People,  min 2 People)
Chocolate truffle making followed by a session of painting your own portrait in Chocolate!! Indulge your creative side and produce a masterpiece of your friend or favourite celebrity! You will be surprised how easy it is and how much fun it is. At the end, we will frame your pictures ready to take away with your truffles.
4 – Chocolate Stiletto Shoe Making and Truffle Making
2 hrs – £120pp with two glasses of Cava (Max 8 People, Min 2 People)
Create and decorate your own designer shoe in chocolate and whilst the shoe is setting whip up some truffles to display inside the shoe. We have the packaging for you to display these wonderful shoes and truffles.. This class is very popular.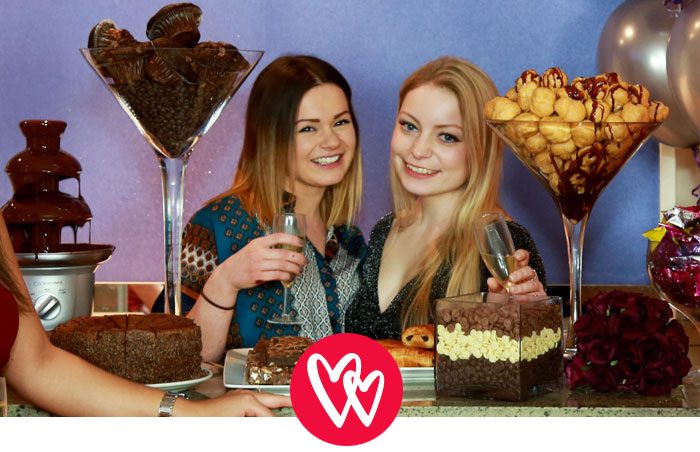 What Our Customers Say…
"We opted for the Introduction to Chocolate Making Class for my birthday party. A truly fanatic time was had by all. We all made loads of chocolates and got to decorate them. We felt thoroughly spoilt from start to finish and will be heading back for one of the more advanced courses soon!"
---
Jo, Celebrating Her Birthday
ALLERGY INFORMATION
Our courses may not be suitable for people who suffer from nut allergies. Nuts are NOT used as toppings, so can be avoided but may have come in contact with any equipment being used. If you are lactose intolerant and want to attend the course this is no problem. We can provide a lactose-free mixture instead of cream, please notify us in advance of attending course.